Trigger Point Therapy and Prolotherapy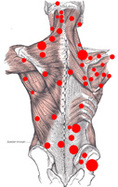 Acupoint Injection Therapy is the "injection of medications into traditional acupoints and other anatomical sites for the treatment of desease, alleviation of pain, prevention of illness, and the improvement of physiological function for atheletic performance". (SAIT)

Prolotherapy; Is used for the treatment of chronic myofascial pain, back pain, shoulder pain and other forms of soft tissue and joint problems. It involves the repeated injection of procaine and dextrose into the joint, tendon and other tissue to provoke a regenerative tissue response



Trigger Point Therapy; as practiced by Stephen, is the classical Dr. J. Travell (M.D.) technique. Treatment is based on relieving muscle spasms by the injection of xylocaine 1% and sodium chloride (normal saline) or hydroxocobalamin (B12) and stretching.

"Trigger points are discrete, focal, hyperirritable spots located in a taut band of skeletal muscle. They produce pain locally and in a referred pattern and often accompany chronic musculoskeletal disorders. Acute trauma or repetitive microtrauma may lead to the development of stress on muscle fibers and the formation of trigger points. Patients may have regional, persistent pain resulting in a decreased range of motion in the affected muscles. These include muscles used to maintain body posture, such as those in the neck, shoulders, and pelvic girdle. Trigger points may also manifest as tension headache, tinnitus, temporomandibular joint pain, decreased range of motion in the legs, and low back pain. Palpation of a hypersensitive bundle or nodule of muscle fiber of harder than normal consistency is the physical finding typically associated with a trigger point. Palpation of the trigger point will elicit pain directly over the affected area and/or cause radiation of pain toward a zone of reference and a local twitch response.Trigger point injection has been shown to be one of the most effective treatment modalities to inactivate trigger points and provide prompt relief of symptoms." (DAVID J. ALVAREZ, D.O., and PAMELA G. ROCKWELL, D.O., University of Michigan Medical School, Ann Arbor, Michigan.)

For more information please feel free to contact Stephen Simonis at Coastal Health Alliance.


---