ACUPUNCTURE SERVICES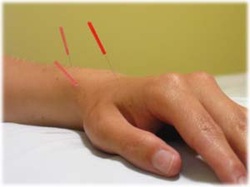 Acupuncture Services: Greater Victoria & Westshore, B.C.
STEPHEN SIMONIS
, Doctor of Traditional Chinese Medicine, Reg. Acupuncturist, Cert. Acupoint Injection Therapy (Trigger Point Therapy/ Prolo Therapy), Acu Detox Specialist (NADA), B.A.
Stephen practices the traditional style of acupuncture as well as Acupoint Injection Therapy. Stephen is a member of the Chinese Medicine and Acupuncture Association of Canada, a licensed Acupuncturist with CTCMA, and is a member of the Society for Acupoint Injection Therapy.
What is Acupuncture? Acupuncture refers to the practice of inserting tiny threadlike needles at key points on the bodym which are specific sites along the meridians. The meridian network is very complex, flowing superficially throughout the surface of the body and deeper into the soft tissue and organs. Each point has a predictable effect upon the vital energy passing through it.
Acupuncture focuses on strengthening the physical condition, harmonizing the emotions, preventing disease, controlling pain, and promoting longevity.
Acupuncture is one of the oldest, most commonly used medical procedures in the world. Acupuncture works with the natural vital energy inherent within all living things to promote the body's ability to heal itself. In recent years, acupuncture has gained greater and greater acceptance in the West as scientific research confirms its effectiveness.
Research has shown that acupuncture stimulation prompts a release of endorphins as well as other neurotransmitters. Neurotransmitters, such as serotonin, can be associated with a host of brain changes and health benefits.
What Should You Expect in Treatment? Most patients find the treatment very relaxing, with an accompanying feeling of well being. Most are surprised at how comfortable they feel during treatment and how easily the needles are placed. Many people even fall sleep during treatment. A patient may feel a slight sensation upon entry and then a pressure or a "dull" or "surging" reaction when the needle reaches the Qi or correct point.
How many treatments are necessary? Each person is unique with an individualized treatment plan. No two conditions or people respond exactly the same. Some problems may be resolved within two to five treatments, others, such as chronic conditions, may require several courses of treatment. The length of treatment depends on the type, severity and the physical state at the time of treatment. In order to get the best therapeutic results, it is important to follow the treatment plan and recommendations carefully. It is also vital to complete the course of therapy to restore health.
What types of illnesses can acupuncture treat? Acupuncture effectively treats a variety of health complaints with minimal to no adverse side effects. Following is a partial list of disorders that respond favorably to acupuncture therapy according to the National Institutes of Health, the World Health Organization or both:
Sport Injuries (Muscular Skeletal)
Nausea of pregnancy
Postoperative dental pain
Stroke rehabilitation
Headaches (including migraines)
Menstrual cramps
Tennis elbow
Fibromyalgia
Low back pain
Myofascial pain
Osteoarthritis
Carpal tunnel syndrome
---
Check out the new pull down page under Acupuncture for information on Acupoint Therapy and Trigger Point Therapy.